Which Restaurants Are Continuing the Eat Out to Help Out Scheme in Manchester?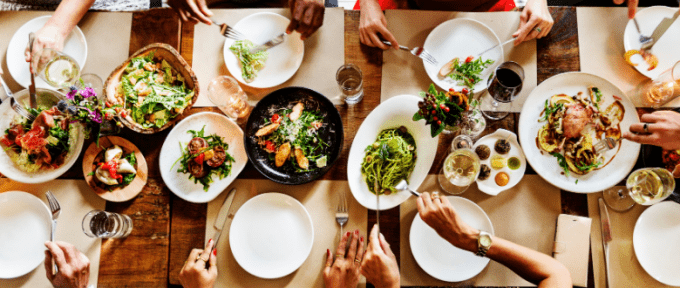 The government's Eat Out to Help Out scheme was a huge success, with many restaurants calling for it to be extended into September. Not only was it good for businesses, but it was also great for diners to enjoy delicious food at reasonable prices.
Although the original scheme was only intended to last throughout August, there are a number of restaurants in Manchester who have decided to continue it off their own backs. Read on to discover just some of the places offering discounts this September!
202 Kitchen
This brand new bar and restaurant, complete with an all-weather enclosed outdoor area, is offering 50% off food Monday to Wednesday! If you love the colour pink, this Instagram-worthy restaurant is definitely worth a visit.
https://www.202kitchen.co.uk/
Bhaji Pala
Serving some of Manchester's tastiest curries, Bhaji Pala is offering 25% off your bill from Monday to Wednesday. They are also offering buy one get one free on a selection of drinks, adding to the value of your food bill!
https://www.bhajipalarestaurant.co.uk/
The Allotment Vegan Eatery
For those of you who opt for meat-free options, The Allotment is offering diners 30% off food from Monday to Wednesday during September. For a fine dining, vegan experience, grab yourself a bargain at The Allotment.
https://allotmentvegan.co.uk/
GRUB Manchester
Throughout September, GRUB are offering diners some midweek bargains. Every Tuesday, Wednesday and Thursday from 4pm, you will be able to get food and a house drink for only £10. For the tastiest selection of street food, visit their eclectic venue today!
http://www.grubmcr.com/
The Potter's Arms
The Potter's Arms in Chorley is offering diners 50% off during September. This pub is perfect if you love nothing more than traditional food for an excellent price. However, make sure to book beforehand to avoid disappointment!
https://whatpub.com/pubs/LAW/5160/potters-arms-chorley
Just some of the other restaurants participating in September deals include Italian chain Vapiano, Spanish restaurant La Bandera, Japanese noodle chain Shoryu Ramen, popular pizza spot Franco Manca, the legendary Hard Rock Café and much more! So if you like eating out and grabbing a bargain, make sure to check out these restaurants this September!
Which restaurants are you most looking forward to visiting in Manchester? Let Redbank House know!