How Our Sensory Rooms Create a Happy Atmosphere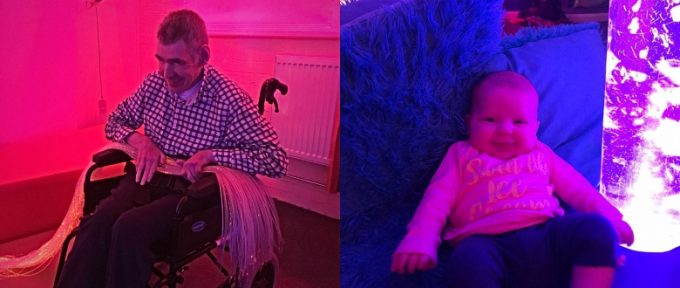 At Redbank House we have two sensory rooms where many visitors attend on a permanent basis. The sensory rooms cater for all ages and can help people with different needs to develop their sensory processing. We have previously shared reasons to love our sensory rooms so now we would like to share the reasons why our sensory rooms create a happy atmosphere.
Our team have spoken to a number of regular attendees and their carers as well as first-time attendees over the last few months to see how attending our sensory rooms benefit them.
Your thoughts about our sensory rooms
One carer of a young boy attended Sensurround for the fist time and said: "Nathan enjoyed the sensory room. He gives it a 7/10 which is the highest rating he has ever given. I found the room very calm and relaxing and would certainly come again. Thank you."
It's always nice to hear that people want to return to book in for another session or join us on a permanent basis, just like The Shaw Centre. A group of users now attend in the afternoon and one of them said: "It's good. I love the fish projection on the wall and listening to the music. It's nice and relaxing to lie down on the waterbed. I want to go in again."
Amanda is one of our regular customers who attends Sensurround for her physio sessions twice a week and she finds it very relaxing. One support worker also said that, "The sensory room is very adaptive for everyone's needs."
Get in touch with Redbank House
If you would like to share your experience of the sensory rooms at Redbank House, just speak to the reception staff, who will be more than happy to receive your feedback and make a note on our records.
For information about attending our sensory rooms in Manchester please visit our website www.redbankhouse.com/multi-sensory-rooms/ or call us on 0161 214 5959. You can also take a look at our Sensurround Brochure for information on how to find us.