Emma's Happiness – Living with Limb Girdle Muscular Dystrophy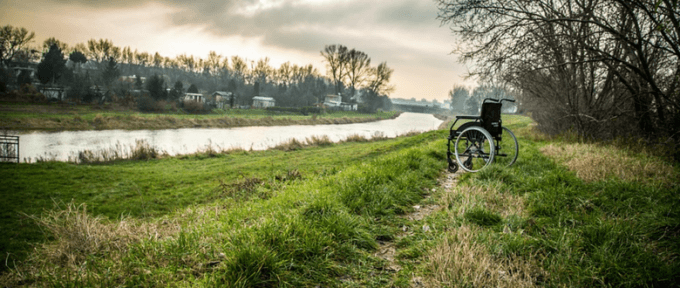 This post has been written by Emma Muldoon, who has Limb Girdle Muscular Dystrophy. Emma is a travel and disability blogger over on Simply Emma.
Please can you tell us a little bit about your disability?
I have Limb Girdle Muscular Dystrophy, which is a progressive muscle wasting condition. It specifically affects my shoulder, upper arms, and hip/thigh muscles. It can also affect my heart so I require regular checks to ensure everything is working as it should. As my condition is progressive it means that over time I lose more and more ability to do certain things. I have poor upper body strength and for the last 10 years or so I haven't been able to walk so I use a power wheelchair to get around.
What are your favourite hobbies?
I love the outdoors so anything that involves being outside such as finding new accessible walks. I'm also a big TV and movie fan so I love catching up on all my favourite ones. Accessible activities are another hobby I enjoy doing. I've tried skiing, wheelchair abseiling, zip lining and more. I'm not sure if travel is classed as a hobby, but it's a real passion of mine.
I love everything about travelling and road trips so much so that I'm always on the lookout for somewhere new to go on an adventure. If I'm not doing any of these hobbies then I'm probably writing about them as writing is another hobby I love.
If you could have any superpower in the world, what would it be?
Oh, this is a tough question. There are so many superpowers I would like to have. Flying, invisibility, telepathy are just a few I'd like to have, but I think telekinesis would win over them all. Since I cannot walk or lift anything heavy than a mobile phone, I think having the ability to move things with my mind would be fantastic and so helpful. I'd never need to rely on others to get me something ever again.
What's the biggest obstacle you've faced with your disability?
This is another tough question to answer, but I think the biggest obstacle I've faced with my disability is trying not to compare myself to able-bodied people. I think this was more the case when I was younger when I found it difficult to come to terms with the fact I wasn't able to run about in the same way as all the other children. As I've gotten older I've overcome that feeling and I'm happy with the way I am. I'm me and I'm ok with that regardless of my disability.
What inspires you most in the world?
Seeing my nephew grow up into a loving, caring and clever little boy. Although I'm in a wheelchair and require help with almost everything that doesn't matter to him. He doesn't see me as his auntie with a disability. He just sees me as his auntie Emma.
Travelling also inspires me. I love travelling to a new destination and experiencing all it has to offer. I get so much inspiration from that.
You can learn more about Emma by visiting: www.simplyemma.co.uk/about-simply-emma
If you would like to submit your story to our blog please send an email to: info@redbankhouse.com.