Our Vibrant Sensory Rooms in Manchester for Children and Adults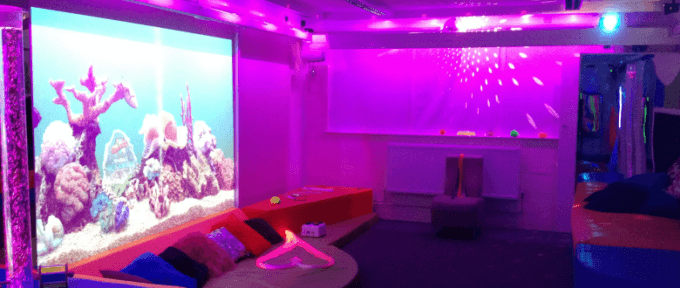 Here at Redbank House, part of Disabled Living, we have two sensory rooms. They're very exciting as colours flash through the fibre-optic strands along the floor, streams of blue and green simultaneously twinkle through the bubble tubes on either side of the room. The disco ball sparkles as our classical chill out music plays in the background.
Information about our sensory rooms in Manchester
Playing in the mirrors creating their very own personal party space with pop music or lying on the water beds or our users can rest and dream away to the sounds of classical music! This experience is all part of a therapy designed for children and adults with disabilities and is available at Redbank House. Groups can enjoy and explore their environment together as well as individual sessions. So the private environment helps them to develop their own sensory needs.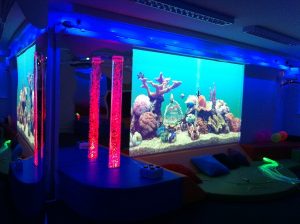 Benefits of a multi-sensory environment
All children and adults with disabilities can benefit from using a sensory room. These environments have proven to be extremely valuable to those with disabilities. Some evidence suggests that those with challenging behaviour can improve and may be reduced over a long term period. There are many other benefits which include:
Increased concentration and focus attention
Chance to develop or reactivate senses
Improve and heighten alertness
Develop coordination
Increase cognitive development through enhanced brain function
Lead participants to explore their environment
Provides a secure and safe environment
Develop of a sense of cause and effect
Develop language – more vocalisation
Promote social interactions
Promote mental and physical relaxation  – leading stress levels to drop dramatically
Result in more calmness and lower aggressive behaviours
Increase opportunity for choice and self-determination
Lead to non-responsive patients to start to communicate
MOST IMPORTANTLY – TO HAVE FUN & ENJOY THEMSELVES
Get in touch with us
We are proud to have two fabulous multi-sensory rooms here, located within walking distance from Manchester City Centre. I'm sometimes very jealous that I can't have a lie down in there on a Friday morning after a busy week!
If you would like to come along to our sensory rooms then call us on 0161 214 5959 or email: info@redbankhouse.com to book a session.