Lots of Easter Fun to Enjoy in the Holidays Near You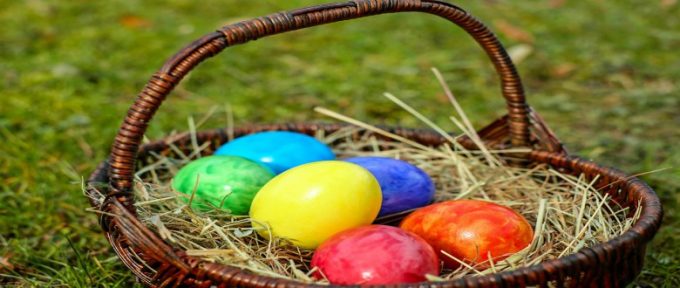 It's that time of year again, the Easter holidays! Two weeks of entertaining the little ones and trying to avoid the urge of chocolate that seems to be everywhere! So to save you a job, we've taken sometime out to find different activities taking place over the school break. We've also suggest some indoor activities for the rainy days too, April showers as they say.
To begin with Cadbury's have teamed up with The National Trust to provide Easter egg hunts all over the UK. Including: Tatton Park in Knutsford and Basildon Park in Reading, click here to find your nearest location!
Tatton Park has many different events throughout the year, in April they have an Easter shopping fair, lambing week at the farm, cave baby's sensory induction, and here come the Vikings, great for those studying the Vikings at school this year.
The beautiful Beale Park in Berkshire are holding bug based events, where you can build mini bug hotels, something I'm sure the little ones will love to get involved in. They are also holding an Easter trail. Visit Beale Park for more information.
Let your little ones be a princess, prince or knight for the day and visit Cardiff Castle. It's such an amazing place with so much history, hunt for Easter eggs while you explore the wartime shelters and Roman wall.
Easter 'Eggsplorer' trail, pre-historic potter and Easter family fun are just some of the activities you can get involved in, in Scotland; Check out the Historic Environments website to find a destination near you. Locations include Dumbarton Castle, Aberdour Castle and Gardens as well as Dryburgh Abbey.
Last but not least, why not visit Brandon Marsh Nature Centre, they have an Easter challenge trail to help burn off some of that extra energy. For the days spent in the house don't panic, below are a couple of creative ideas to keep little hands busy. You may even have time to have a quick brew and a cheeky Easter egg yourself while the kids get messy.
Easter Themed Sensory Painting
Gather together as many household items as you can, with different textures that can be used for painting and decorating. This could include: bubble wrap, sponge, a comb, a toothbrush, cotton buds, cotton wool balls, sand, felt paper and even food items such as broccoli and potatoes. Use the different textures to make different effects. For example apply different colours to the comb and make a rainbow. Or paint some broccoli brown and use it like a stamp to make a tree. Cotton wool for a rabbits nose and so on. Children have great imaginations so see what they come up with.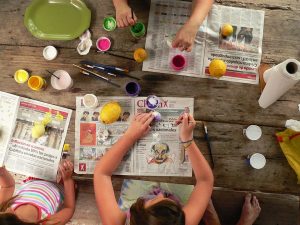 Marble Painting
Place a piece of paper into the lid of a shoe box, or something similar that you don't mind getting full of paint. Then add a generous amount of different coloured paints to the piece of paper. Place in the marbles and rock the lid side to side so the marbles roll through the different colours creating a one of a kind painting. Remove marbles once complete, wash them and allow your master piece to dry.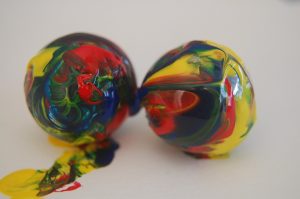 Foam Egg Hunt
Find a large tub or bucket then fill it with cheap bottles of shaving foam, enough to hide plastic eggs inside. Then add a couple of drops of different coloured paint and allow children to dig through the foam looking for all the hidden eggs. As they move around the paint will spread creating different colours in the foam. You could use primary colours to add an educational purpose to the activity.
These activities all sound brilliant, but don't forget we are still open here at Redbank House over the Easter Holidays. (Closed for bank holidays) Our sensory sessions are available on the hour, every hour between 10am and 4pm Monday to Thursday our final session is at 3pm on Fridays. To book please ring 0161 214 5959, we take on the day bookings as well as bookings in advance.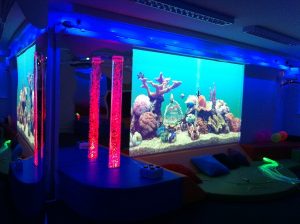 Before you shoot off don't forget to book your FREE online tickets for our Kidz to Adultz exhibitions. When you complete our registration tickets and feedback you will be automatically entered into our FREE prize draw. Thanks to our amazing supporters those who visited Kidz to Adultz Middle, in March won the following prizes:
National Space Centre tickets for 2 Adults and 2 Children
The Lost City Adventure Golf tickets for 2 Adults and 2 Children
Mid week Tobogganing sessions for 2 at The Snow Dome
Planet Ice family ice skating session
Bird Land & Jurassic Journey tickets for 2 Adults and 2 Children
Dinosaur Adventure tickets for 2 children
2 Home game tickets for Coventry City Football Club
name, personalised story book
Quarry Park tickets for 4 people
2 Adults and 2 Children tickets for Butterfly Farm
Conkers family ticket: 2 Adults and 2 Children
Castle Bromwich Hall and Gardens season activity pass
National Trust's Charlecote Park 2 Adults and 3 Children pass
National Trust's Upton House and Gardens 2 Adults and 2 Children pass
________________________________________
Kidz to Adultz South – 8th June 2017 – Rivermead Leisure Complex
Kidz to Adultz Scotland – 14th September 2017 – Royal Highland Centre
Kidz to Adultz North – 16th November 2017 – EventCity
Kidz to Adultz Wales – July 2018 – Cardiff (Date & Location TBC
Let us know what you get up to over the Easter holidays using on Twitter and Facebook. We look forward to seeing your photographs.
Have a lovely Easter break, and don't forget to scrub those teeth!