The Benefits of Baby Swimming for Your Little Ones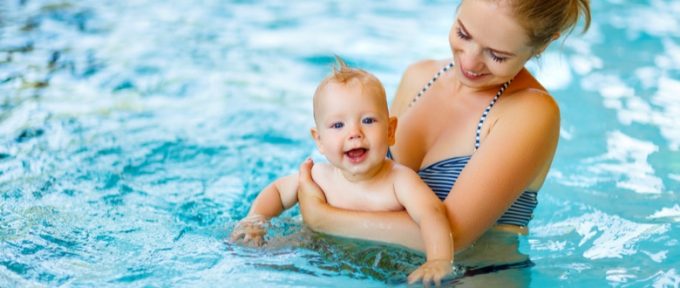 Introducing your little ones to being in water is great for their physical health, but swimming has many significant benefits for babies other than just muscle growth. For National Baby Swimming Week we have put together a post pinpointing some of the benefits of teaching your little ones to swim.
In some cases, babies can swim before they can walk because the water is a familiar surrounding much like being in the womb. This helps babies to move self-sufficiently before crawling or walking. And with swimming being one of the most enjoyable parent and child activities, why not start them early?
Just a few of the many benefits for baby swimming include:
Gross motor skills development
As your baby learns to move around in the pool and they develop fine motor with activities such as gripping toys in the water using movements in the wrists, hands and fingers.
Strengthened bond between you and your baby
This is through skin to skin contact. It has been proven that bond between you and your baby after birth can be developed with skin to skin contact. This also aids healthy growth and development. Frequent visits to the pool result in more time for skin to skin contact, ultimately strengthening that special bond!
Development of confidence in water
Teaching your baby to swim will help to boost their confidence, as opposed to children who learn to swim later in life that might be wary of water. It will also result in easier bath times as your little one will come to enjoy being in the water.
Increased appetites
Increased appetites are a result of swimming as so much energy is used to move around in the pool. Your baby will not only need to fuel the energy filled swimming sessions through feeding but will also more than likely be tired out afterwards. This can result in improved sleeping routines.
Improved social skills
Another great benefit of taking your baby swimming. Experiences in the pool with other little swimmers will help them to create bonds and feel more comfortable around others in a fun environment, enhancing their social skills.
We hope that reading this post has encouraged you take your little ones to the local pool. Read more about swimming products such as armbands, earplugs and floatation aids as well as swimwear from Incy Wincy Ltd on Disabled Living's Supplier Directory here: https://supplierdirectory.disabledliving.co.uk/incy-wincy-ltd/
This post was written by our Redbank House guest contributor, Claudia McLaren.