Kidz to Adultz North Go Above and Beyond Our Expectations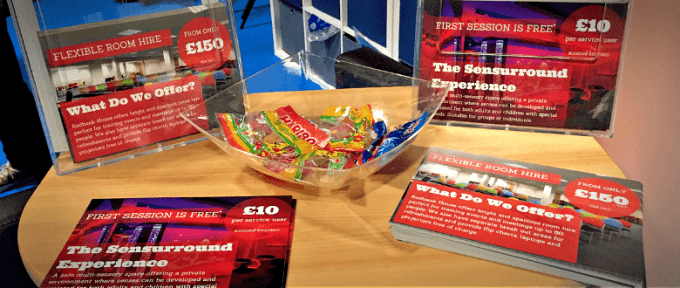 On Thursday 8th November, Natasha represented Redbank House at Kidz to Adultz North with the support from her colleagues at Disabled Living and Bladder and Bowel UK.  
Lots of seminars, exhibitors and visitors!
A busy and successful day is always guaranteed at this event with over 165 exhibitors covering funding, education, legal matters, mobility and much more. Even more, the free accredited CPD seminars are packed full of information including topics such as 'Toilet Training Children with Disabilities and Additional Needs', 'Challenging behaviour and supporting the family in the home' plus several others.
Whenever Natasha checked on the stand, the bowls of sweets were empty. And she noticed that there had been a significant level of interest with our multi-sensory rooms. Many people asked for our Sensurround postcards that we created a few months ago. So it was great to see that our new marketing materials were encouraging people to hear more about our services. We hope to receive just as many enquiries about our sensory rooms over the phone as we did last year from visitors who attended the event.
Natasha said:
It was my second year attending Kidz to Adultz North. The most amazing thing about the event is seeing the smiles on the children and young people's faces. To know that an event with so many wonderful and knowledgeable exhibitors, guest speakers and professionals is beneficial to just one of these children or young people is great. But to see more than one face in the room light up gives you such a warm feeling.
This year Kidz to Adultz North gave us the opportunity to network with even more organisations. There are several organisations that we communicate with for blogs, social media, newsletters purposes etc. Speaking to like-minded marketing professionals and other representatives particularly around children and sensory was really insightful.
Have your say
Disabled Living welcome your feedback. If you attended this year's event in Manchester please do let the team know what your thoughts were via info@disabledliving.co.uk
Kidz to Adultz North will return next year. The team at Disabled Living look forward to seeing you all again and hopefully some new faces too.