Things Happening in Manchester for Chinese New Year 2020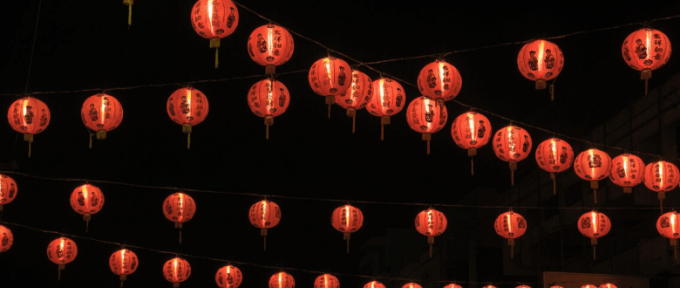 In 2020, Chinese New Year runs from Friday 24th January to Sunday 26th January and is the Year of the Rat. The naming tradition comes from the animals of the Chinese zodiac, which include the rat, ox, rabbit, dragon, snake, horse, goat, monkey, rooster, dog and pig. Each year, a new animal is assigned on a rotatable sequence. The story behind this is based on a Chinese fable about the animals taking part in a race. According to Chinese mythology, if the year is the same animal on the year that you were born in, it can be bad luck.
As one of the world's most celebrated dates on the calendar, Chinese New Year is always filled with fun and festivities. It is often celebrated globally, with large scale parades happening across many cities in the UK. If you're looking to celebrate Chinese New Year in Manchester this weekend, read on to discover some of the best events around the city.
Chinatown Celebrations
As expected, Chinatown is full of exciting performances, workshops, food, stalls and a funfair this Chinese New Year. These celebrations will be running throughout the day from Friday 24th to Sunday 26th January. Don't miss out on the brand-new illuminated Dragon and other breathtaking performances.
On Sunday, make sure to follow the 175ft dragon parade from St Peter's Square to Chinatown, followed by a spectacular firework display at 6pm.
Friday 24th January
12pm – 8pm: Stalls, Funfair
5.30pm, 6.30pm, 7.30pm: Illuminated Dragon Dance
Saturday 25th January
12pm – 8pm: Stalls, Funfair
12pm – 5pm: Live Performances; Lion Dance, Chinese Dance, Singing, Poem Reading & Kungfu
5.30pm, 6.30pm, 7.30pm: Illuminated Dragon Dance
Sunday 26th January
12pm – 8pm: Stalls, Workshops, Funfair
12pm – 5.30pm: Live Performances; Chinese Acrobatics, Lion Dance, Chinese Opera, Chinese Dance, Singing, Poem reading & Kungfu
12.30pm – 2pm: 175ft Dragon Parade (St Peter's Square – Chinatown)
5.30pm: Illuminated Dragon Dance
6pm: Firework Finale
Giant Gold Dragon
Don't miss out on the 50ft giant golden dragon that will be placed at St Ann's Square over the weekend from 10:00am to 6:00pm.
The Dragon Parade
The famous 175ft dragon will be parading through the streets of Manchester on Sunday from 12:30pm-2:00pm. The route begins at Manchester Central Library in St. Peters Square, and weaves its way through Oxford Street, Portland Street and Princess Street, before finishing in the heart of Chinatown. The dragon will be accompanied by some spectacular performances, including the traditional lion and ribbon dancers, as well as Chinese opera performers, giant Buddha Dolls and th Chinese Scout parade.
Download the parade map here: https://www.visitmanchester.com/dbimgs/Chinese%20New%20Year%20Parade%20Route.pdf
Fireworks
A large fireworks display will be taking place on Sunday 26th at 6:00pm in Chinatown. Expect a dazzling show to finalise the celebrations for Chinese New Year 2020.
Note: Although fireworks can be spectacular, it is important to be aware of those that find them distressing. For more information on how to remain safe and comfortable during these festivities, please read our blog. https://www.redbankhouse.com/blog/top-tips-for-individuals-with-sensory-issues-on-bonfire-night/
Yang Sing's Year of the Rat Banquet
The authentic Yang Sing will be throwing a feast to celebrate. Their traditional banquet will include lucky eggs, dumplings and a prosperity toss. In addition to this, their lunch event will include a private lion dance accompanied by a martial arts demonstration. With restaurants in both Manchester city centre and Intu Trafford Centre, head to Yang Sing for a relaxing and family friendly afternoon.
Click here for more information: http://www.yang-sing.com/pdf/CNY2020.pdf
Family Workshops
There will be various family craft workshops taking place over the weekend. Not only are many of them free, but they're a great way to get creative and learn the art of Chinese paper folding.
Learn the Chinese zodiac with teachers from china, make your own paper rat and create Zodiac wheels and tattoos.
When? Saturday 25th January: 11:00am-4:00pm
Where? Exchange Court, Manchester Arndale, M4 3AQ
Manchester's Centre for Chinese Contemporary Art (CFCCA) will be hosting workshops with artist Joey Yu to reinvent the traditional practice of making paper dragons.
When? Sunday 26th January: 11:00am-3:00pm
Where? Market Buildingss, 13 Thomas Street, M4 1EU
Over the weekend, Manchester will be full of activities to celebrate Chinese New Year 2020. Our list of celebrations is not exhaustive, but we recommend heading to Chinatown to see what's on offer and to welcome in the Year of the Rat!