What Are the Other Services of Disabled Living?
As you may know, Redbank House is part of Disabled Living. Disabled Living has many different parts of the organisations and has changed a lot within 119 years! The charity began in 1897 and has developed 5 main sections of the organisation. Take a look below to find out a little bit more about Disabled Living and what we can provide for you.
What is Disabled Living?
Disabled Living is a charity that focuses on providing impartial information and advice about equipment for children, adults and older people and the professionals who support them.
Equipment
This is one of five areas that Disabled Living is involved with. The Disabled Living head office is located in Worsley. At this location there is the Disabled Living Centre. Here there is a permanent display of equipment to be viewed and tried. The service offers impartial advice about items that can help someone keep their independence. Alongside viewing the equipment, appointments can be booked with an Occupational Therapist, and they can help guide you in your equipment choice.
The types of items you are likely to find at the centre are stair lifts, wheelchairs, baths and toilets, beds, kitchen equipment and much more.
If you would like to find out more about this service please click here.
Training
Disabled Living provides a comprehensive training programme. The training is for professionals and carers. Our training team at Disabled Living offer a flexible approach to training – which helps to meet individual and organisational needs.
The types of training courses will range from Moving and Handling courses to Trusted Assessor courses. Many of these are accredited by the Open Awards and provide a great chance for someone to update their CPD.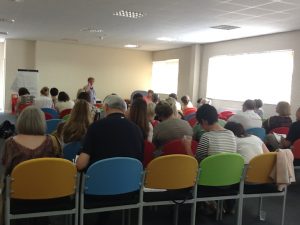 You are welcome to view our 2017 Training Diary.
Kidz to Adultz Exhibitions
The Kidz to Adultz exhibitions are events organised by Disabled Living. There are currently 5 events all over the UK. These exhibitions are free and are totally dedicated to children and  young adults with disabilities and additional needs. The event also aims to support their parents, carers and professionals who work with them.
These events are widely attended by people all over the UK, in 2015 we welcomes 10,410 in total and this  number is on the rise for 2016.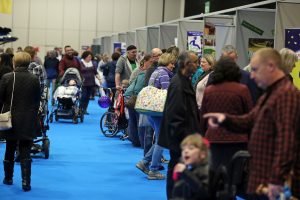 The Kidz to Adultz exhibitions are a great way for companies to showcase their product range and change someone's life. As well as it being an amazing opportunity for families and professionals to see what is out there.
To find out more information about the Kidz to Adultz Exhibitions click here.
PromoCon
PromoCon have a team of dedicated experts who can provide advice and support to help manage any kind of incontinence, bladder or bowel related issue. The helpline at PromoCon is free and completely accessible. The team provide support to patients, health care professionals and anyone who requires further information and support.
Find out more about what the PromoCon team can do for you.
Redbank House
Here at Redbank House we are part of Disabled Living too. The premises here at Redbank House used to be Disabled Living's head office before it relocated to Worsley. The building is now used for Disabled Living's other activities including 2 multi-sensory rooms, 3 large and accessible rooms that are available for training, event and meeting hire.
Explore our website to find out more about what Redbank house can provide.