The Story of Vicky and Paul's Little Miracle with Angelman Syndrome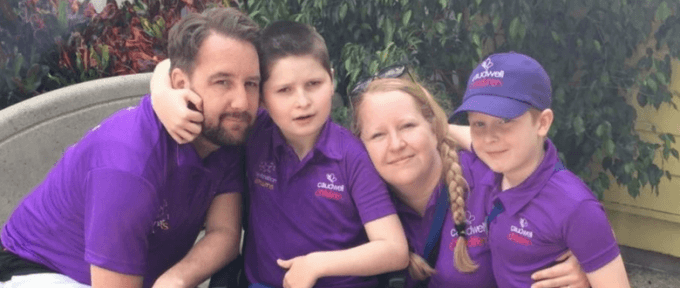 This Story of the Month is based on a young boy called Sebastian, who attended our Kidz to Adultz North event in November 2017 with his parents. His mum (Vicky) gives her insight along with dad (Paul) about their journey of seeing their little boy grow up with Angelman syndrome.
Please can you tell us a bit about you and your family?
We have two sons, Sebastian who is 11-years-old and Harrison 8-years-old. Sebastian was born in 2006 after a very bumpy pregnancy with lots of hospital stays for hyperemesis. Once he was born he had feeding and sleeping problems. He suffered from reflux, which led to him being admitted into Royal Manchester Children's Hospital at 6-weeks-old for feeding issues. They put a camera down his throat but it revealed nothing.
However, they found he had sleep apnoea. We were scarily given training in baby resuscitation. Sebastian was placed on a monitor and under a paediatrician until 11-months-old. During this stressful time we had health visitors tell us we were 'bad parents' as he wasn't gaining weight. They accused us of neglecting him because he wasn't talking and at one point they tried to question family members about our parenting capacity. Sebastian has always been loved, cared for and protected.
To view the full post please visit Disabled Living's blog.
If you know would like to share a story on our blog about someone with Angelman syndrome or other condition please send an email to info@disabledliving.co.uk